Volunteers made Slovakia a nicer place. Take a look at what Our Town 2020 has brought this year
The fourteenth year of Our Town went well despite the difficult pandemic situation. More than 3,500 corporate volunteers at different locations all across Slovakia participated in the event. The activities were carried out under strict hygienic measures and in small groups.
This year, volunteers have helped 97 non-profit organisations, low-threshold centres, schools and kindergartens. Participants assisted in 14 Slovak towns and their surroundings.
As many as 25 activities focused on garbage-picking in nature, as awareness of this problem is growing. People are paying more and more attention to their surroundings, and they try to live in accordance with ecological principles. The partner of this type of activities was the company ENVI – PAK. Together, we collected an incredible 720 bags of waste.
Waste analysis and garbage-picking from a canoe
One of the most interesting activities in this category was the cleaning of the Little Danube. Our Town participants got into canoes and pulled the dirt out of the water and from the branches. Other volunteers helped with the disposal of illegal landfills in Lamač, Bratislava.
A complete novelty was the activity focused on the analysis of separated waste collection in Senec, organised by the Circular Economics Institute. These analyses help determine how people in Slovakia sort waste and whether they sort it correctly. During the event, volunteers focused on analysing blue and yellow containers to examine the quality of the waste collection in the town.
Preserving the monuments
Thanks to Our Town, several monuments enjoyed the necessary care. Volunteers helped save and preserve the castles near Prešov and Košice and in the vicinity of Žilina.
Furthermore, they cleaned the paving and collected garbage in Devín, took care of the area of ancient Gerulata in Rusovce and the exhibits in the Museum of Transport in Bratislava. In Nitra, they cleaned the surroundings of the archaeological site at the Zobor Monastery.
As many as 136 activities took place in Bratislava, but dozens more were carried out in Nitra, Žilina, Košice and Topoľčany.
What was said about Our Town
Peter Zittnan, a corporate volunteer from the IBM International Services Centre
Activity: Little Danube cleaning
"It's a great event for both the team and the company. We can get to know each other better, strengthen our relationships and, at the same time, we help the town a bit, especially, for example, to clean the watercourses. And why this activity? I have been here for the second year in a row now. But several people have been here for the third time in a row, and we know that it is a very interactive activity that we like."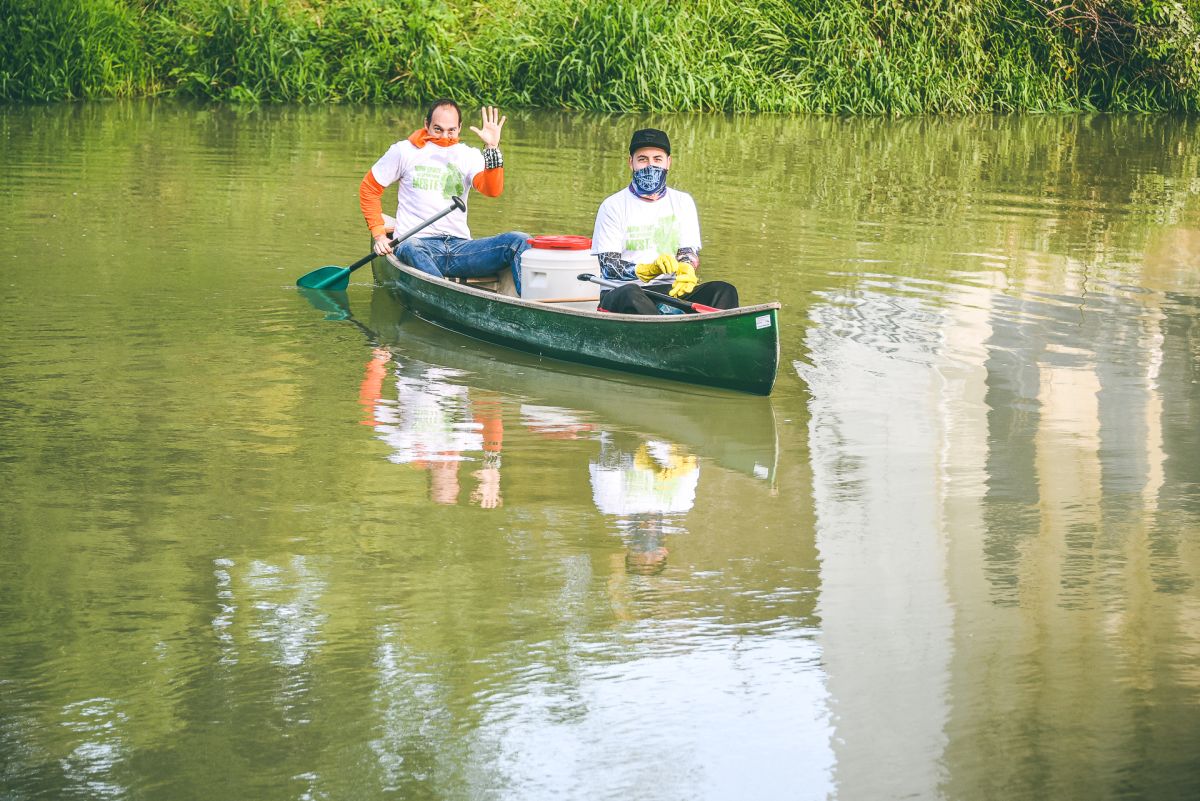 Foto: Martina MlčúchováRastislava Mihóková, an activity organiser at the Department of the Environment, Municipality of Vrakuňa
Activity: Cleaning of the Little Danube surroundings
"We decided to organise this activity because we are troubled by illegal black dumps in Vrakuňa. We are very upset by the behaviour of irresponsible citizens who park their cars here and just throw away construction and municipal waste. We want to keep the surroundings of the Danube clean, as cyclists and other citizens use this area a lot."
Lucia Gvozdjáková, an activity organiser at the Andreas Autism Centre
Activity: Cleaning the centre
"We have been participating in Our Town since its very beginning. Moreover, one year we hosted the general managers of the largest companies in Slovakia, such as KIA and Orange, when they joined to help as volunteers. We participate in the event mainly because we have a large garden, where everything grows wildly. It needs to be trimmed twice a year. As volunteers often need to take a break from administrative work and want to work manually, gardening may be a pleasant relaxation. We are also well located in the town. We are in a residential area, and we focus on an interesting topic, so I think that is what volunteers like and enjoy. For us, a huge benefit is not only the help alone but also the fact that we can raise awareness of autism in this way. "
Lucia Marková, CSR Manager at Eset
Activity: Tidying-up and repairing bicycles in Cycle-Kitchen
"We join in every year, and we want to support this activity with our participation, although this year to a limited extent. I am very glad, and I want to thank all our colleagues who are participating. There are more than 70 of us here at several Cycle-Kitchen activities. Our other company groups are painting the walls and fences of primary schools, some are planting greenery, and I believe that we will be able to clean up the Vydrica stream a bit too."
Marek Mihálik, a corporate volunteer from the Tatra bank
Activity: Preservation and maintenance of museum exhibits
"I like the idea of getting involved as a volunteer, as I can help different organisations – in this case, the transport museum. Another plus point is free time from work and an opportunity to move around. But the main thing is to help someone else."
Dana Bárdošová, corporate volunteer from Lenovo
Activity: Upratovanie v Sade Janka Kráľa Cleaning in Janko Kráľ Garden
"Being able to help the town feel perfect. It's Friday, the weather is beautiful and we're not sitting on our butts. We are very happy and I think it is mutual. "
Veronika Tučeková, a corporate volunteer from Lenovo
Activity: Cleaning in the Janko Kráľ Garden
"As a company, we participate every year, and we select this activity because we like the Janko Kráľ Garden. Our company is very close, so we have a relation with this environment, and we wanted to improve it and make it cleaner here. Today, we have been mostly picking up garbage from the bushes. "
Take a look at the Our Town event in our photo gallery on Facebook.